Gazebo Gazette
The University of Southern Mississippi (USM) School of Leadership held its second annual "Experience Business Casually" Feb. 15 at the university's Gulf Park Campus in Long Beach, Miss.
At this event, volunteer business professionals from across the Coast coached student participants on topics such as interviewing strategies; the 60-second elevator pitch; the art of small talk; and others. Students connected with leaders from the business community and learned valuable tips to get them workforce-ready.
Southern Farm Bureau Insurance was the event's primary sponsor. In addition, students enjoyed pizza courtesy of RPM Pizza, Dominos' largest franchise.
In past years, only USM students were invited to participate in Experience Business Casually. This year, however, dual-enrolled students from Pass Christian High School also attended.
These students take college-level classes through Mississippi Gulf Coast Community College while completing high school, with the goal of earning an associate's degree within one year of high school graduation. They can then transfer to USM to complete their terminal degree. In addition, Career Technical Program students from Gulfport High School also attended the event.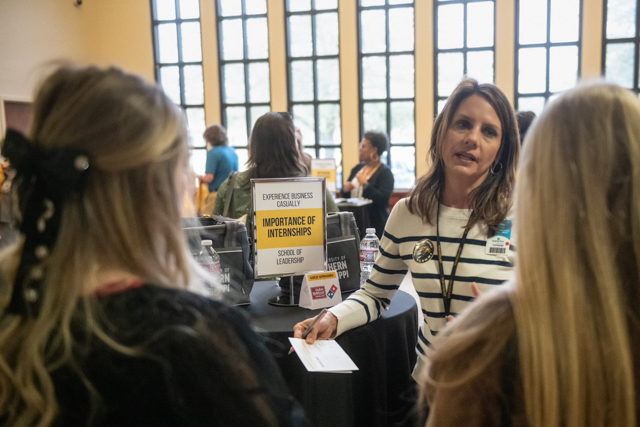 Students were impressed with the quality of information they received at Experience Business Casually. Michael Pringle, a Business Administration student at USM, noted, "This was really helpful. I learned it's important to look presentable, know your audience, and talk properly."
Maria Kinker, an Industrial Engineering Technology (Logistics) student, agrees. "My favorite station was 'Personal Brand' and learning how that helps you get hired. It was great – you try to get as much information as you can. It's always good to get another perspective."
Dr. Heather Annulis, director for the School of Leadership and Pass Christian resident, explains the reasoning behind inviting high school students to USM.
"The dual-enrolled students we invited are the best and brightest of our local high schools," she stated. "They are already on their way to a college degree, and we want to show them that the School of Leadership and the College of Business and Economic Development are here to help them succeed.  For many students, it's the first time they have been on our campus. They enjoyed walking the campus, looking around, and checking out our library. We're happy they are excited about the possibility of attending USM."
She concluded, "The tools offered through this Experience Business Casually event can help jump-start students' careers and set them up for success in the workplace. We are beyond grateful to Southern Farm Bureau, RPM Pizza, and our dedicated industry volunteers for making this event a success."
Amy Yeend, assistant dean of Professional Development and Career Success, has organized this program on the Hattiesburg campus for several years.
"Seeing the active engagement between our industry professionals and students is always exciting. In this casual environment, the students are more comfortable asking questions and often spend more time than anticipated at the event because they receive such great information. In addition, our industry volunteers are always eager to participate and enjoy the coaching conversations with students. This is a unique opportunity for leaders to mentor students and share career advice."
The School of Leadership is housed within the College of Business and Economic Development and operates on the Coastal USM campus in Long Beach, Mississippi.
Its undergraduate degree programs include Accounting, Applied Technology, Business Administration, Industrial Engineering Technology, Industrial Engineering Technology (Logistics), Management, and Marketing. Graduate programs include Human Capital Development, Human Capital Development (Instructional Technology and Design), Instructional Technology and Design, and Logistics, Trade and Transportation.
To learn more about these degree programs, visit https://www.usm.edu/leadership or email SchoolOfLeadership@usm.edu.