Bluntly speaking, Dr. Jay Smith explained the needs of the Long Beach School District when the public questions were allowed at Wednesday morning breakfast on the University of Southern Mississippi's Gulf Park campus.
"Our kids are doing well, on despite their facilities," commented Smith, discussing the public details of the school district in his first year as the superintendent.
"Long Beach's academics were great before" and conveyed the positives of specific programs in the schools, such felt as the ACT program.
The school district has an $8 million tax base and a 10-year master plan while employing 465 citizens, which Smith spoke of to the crowd as a model for economic growth. "We have added on to our facilities since the population growth," where Smith was referring to money used to construct the recently built Harper McCaughan Elementary School.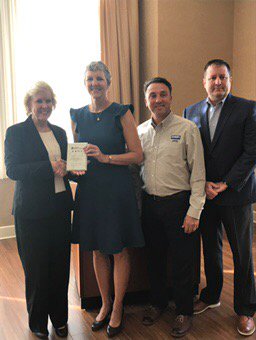 After, Smith and the Long Beach Chamber of Commerce presented Susan Molesworth with the Fred Walker Educator of the Year Award.
Susan worked in special education for over 30 years, having taught every grade. Molesworth's began while working at South Mississippi Regional Center and with Special Olympics during the summer months while attending USM in Hattiesburg. After graduating with a B.S. degree in Special Education in 1980, Susan taught briefly in Gulfport before moving to Texas, Alabama and Michigan before moving back to work in her hometown of Long Beach in 1996. She held the positions of Homebound teacher, lead high school special education teacher, and Transition Coordinator prior to earning her Master's degree in School Guidance and Counseling from USM in 2000.
Molesworth has been the Positive Behavior Specialist and Assistant Special Education Director. She received her Administrator License in 2012, and that year began as Special Education Director.
During this time, Susan has served on the Mississippi Autism Advisory Committee while overseeing the Gifted Department, Section 504, and Teacher Support Teams for the District.